The Library History Buff
Promoting the appreciation, enjoyment, and preservation of library history
---
2010 - A Year in the Life of The Library History Buff
Since my retirement from full time library work in 2003 I have devoted more and more time to my role as a "library history buff". So much so that it is almost like a regular job, only more fun. I describe myself as a library history buff in order to distinguish myself from library history scholars who approach library history in a much more serious and sophisticated manner. I have a great deal of respect for these scholars and much of what I do depends on their excellent research and scholarship. My personal mission, however, is to promote library history to a wider audience inside and outside the library community. Many of my efforts have fallen flat, but like Don Quixote I keep on tilting at windmills. The following is a look back at the activities of a library history buff in 2010.
The Library History Buff Blog

Publishing The Library History Buff blog which I established in November of 2009 has been one of my most time consuming and most satisfying activities of 2010. I have written 129 posts to the blog this year. Although every web statistical package has limitations, the one I use indicates that about 22,000 unique visitors have uploaded approximately 32,000 pages from the blog site in 2010. I'm grateful for the exposure that has been given to the blog on American Libraries Direct which has been a great traffic generator. The selection of the blog by LISNews as one of the "10 Librarian Blogs to Read in 2010" has also had a big impact on traffic to the blog. Thanks LISNews. The blog was also selected by Salem Press for second place in the Quirky Library Blogs category of its best library blogs selections. The Librarian's Book of Lists by George Eberhart included the blog on its list of the "Top Ten Library Blogs".
The Library History Buff Website
The Library History Buff website celebrated its 5th anniversary in March of this year. Although the Library History Buff blog was created as a companion to the website, the blog receives most of my attention. The website lends itself to larger units of content, and I continue to add material to the website and keep it up to date. In a Google search of "library history" it usually comes up second out of almost 600,000 results. In 2010, 55,230 unique visitors made 74,069 visits to the site and uploaded 140,562 pages.
The Wisconsin Library Heritage Center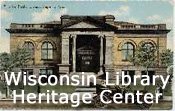 I'm the Chair of the Steering Committee for the Wisconsin Library Heritage Center, and I maintain the website and blog for the WLHC.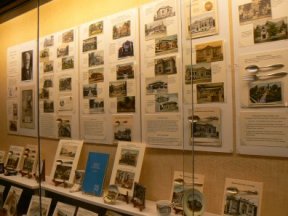 I also am responsible for exhibits of Wisconsin library memorabilia which are sponsored by the WLHC and are made available to libraries in the state. The artifacts in the exhibits are from my personal collection. My wife Kathy helps me set up the exhibits. One of the exhibits was shown at the Delafield Public Library in October. This year I created an exhibit featuring "Andrew Carnegie's Wisconsin Library Legacy" which was displayed in the public libraries in Middleton and Sheboygan. This was in conjunction with Carnegie's 175th birthday. I created a special exhibit for the Menasha Public Library on the two early 20th century commercial libraries founded by Seymour Eaton. The Menasha Public Library has one of the unusual Tabard Inn Library bookcases.
The Wisconsin Library Hall of Fame is one of the projects of the WLHC, and this year five individuals were inducted into the Hall of Fame.
I gave a presentation in behalf of the WLHC at the Wisconsin Association of Public Libraries in Sheboygan on "Turning Your Library's History into a Public Relations Asset". In preparation for the presentation I created web pages on the Wisconsin Library Heritage Center website on: 1) Researching & Writing a Library History; 2) Marketing Library History; and 3) Celebrating Anniversaries.
One of my most fun experiences in connection with the WLHC was making a presentation to the Public Library History class of the UW-Madison School of Library and Information Studies. It's refreshing to know that there are some potential library history scholars and buffs in out library schools.
Philatelic Exhibits of Postal Librariana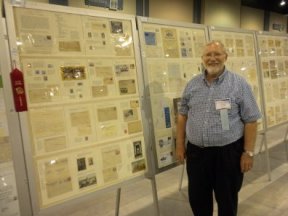 In 2003, I started exhibiting portions of my collection of postal librariana at stamp shows. I have usually exhibited at two or three of the World Series of Philately Stamp Shows each year. These shows are sanctioned by the American Philatelic Society (APS). Two of my philatelic exhibits were on display at the AmeriStamp Expo in Riverside, CA, in February of this year. The first exhibit was a six frame about America's Presidential Libraries and Museums and was shown competitively for the first time. The second was a three frame exhibit on America's Philatelic Libraries and Museums and was shown non-competitively. I showed the presidential libraries exhibit at AmeriCover 2010 in Chicago along with a four frame exhibit on the 1982 "America's Libraries" stamp. My big philatelic exhibit project this year, however, was the creation of a ten frame exhibit on the Library of Congress. This exhibit was shown for the first time at at StampShow 2010, the largest stamp show in the United States, in Richmond, VA where it received a Silver Award. That's a picture of me in front of my Library of Congress exhibit in Richmond.
Library History Seminar XII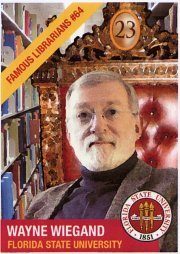 One of the big highlights of the year was my attendance at Library History Seminar XII which took place at UW-Madison. This was a conference of library historians which comes together every five years. I was able to meet in person many the library historians which I admire so much. I played a small part in the Library Trading Card surprise caper for Wayne Wiegand. I also played an active role in the auction of library history publications to benefit programs of ALA's Library History Round Table which took place at the seminar.
By far the most interesting activity in conjunction with the seminar was some preliminary work on a documentary film about public libraries and their history in the United States. The film project is called "Free For All - Stories of the American Public Library". I was interviewed by film makers Dawn Logsdon and Lucie Faulknor for the project, and the two of them ended up filming in my basement which houses my collection of librariana.
Other Writing Projects
An article written by me about Carnegie libraries was published on ALA's ilovelibraries.org website.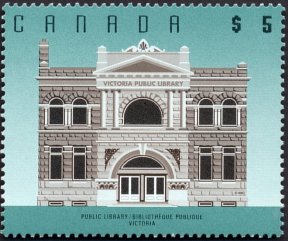 The Librarian's Book of Lists (ALA, 2010) by George Eberhart included my list of the "Top Ten Libraries on Postage Stamps".
I wrote a brief article about libraries and postage stamps for the Summer issue of the newsletter, Library & Information History Group Newsletter, which was published in June. The Library & Information History Group (LIHG) is a special group of the Chartered Institute of Library and Information Professionals [CILIP] of the United Kingdom.
Collecting Librariana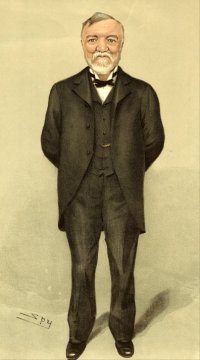 I spend a lot of time collecting all manner of librariana (library collectibles and memorabilia). My sources include eBay, stamp dealers, and donations from people who know of my interests. I got the picture of Andrew Carnegie at the left from the Library History Seminar auction. It was donated to the auction by Wayne Wiegand.
This site created and maintained by Larry T. Nix
Send comments or questions to nix@libraryhistorybuff.org
Last updated: 12-31-10 © 2005-2010 Larry T. Nix
Also check out the Library History Buff Blog.