The Library History Buff
Promoting the appreciation, enjoyment, and preservation of library history
---
The Norman D. Stevens Collection of Library Architecture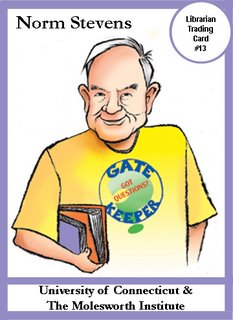 Norman D. Stevens as depicted on a "Librarian Trading Card"
Norman D. Stevens is arguably the world's greatest collector of librariana. His book, A Guide to Collecting Librariana, is the "bible" of collecting library artifacts and memorabilia. He is the retired director of university libraries at the University of Connecticut. He has written numerous articles and books on a wide range of library related topics. He has a special interest in library humor, and is the director of the Molesworth Institute, an organization dedicated to the promotion of library humor. More biographical information about Stevens can be found in an article in Wikipedia.
After a lifetime of collecting librariana, Stevens ensured the preservation of his collection by donating the bulk of it to the Canadian Centre for Architecture (CCA) in Montreal, Quebec, Canada. Thanks to Norman Stevens for this enormously important contribution to the preservation of librariana, and thanks to the CCA for the foresight to recognize the value of this collection.
The collection is a special collection of the CCA Library and can be accessed by searching the library's catalog using the keywords "Norman D. Stevens". The search will result in 335 entries. Many of the entries are for publications, but close to the end of the list of entries are many which relate to Steven's various collections of librariana. By sorting the entries using the "ascending" option, you can get to the "collection" entries more quickly.
His collection at the CCA includes:
Over 25,000 library postcards

Eight boxes of library ephemera

9 pieces of library treenware

7 stereographs

5 library t-shirts

4 library printing plates

7 decks of library playing cards

19 library bags

18 library posters and calendars

7 textile library souvenirs

42 wood miniatures of libraries

Over 300 publications related to library history and the collecting of artifacts
The Canadian Centre for Architecture is an outstanding educational institution and fully capable of preserving Stevens' wonderful collection of librariana. It is hoped that the CCA can be encouraged to make this collection more accessible to those who love and support libraries worldwide. One obvious way this could be done is to digitize those items suitable for digitization, especially the library postcards, and to make them available over the Internet.
Stevens has also donated his personal papers to the American Library Association Archives.
Publications of Norman D. Stevens available through Amazon.com.
Stevens on collecting librariana:
"For at least one hundred years, and probably much longer, librarians, and even at times others, have been collecting various kinds of librariana that relates to their profession, their particular interests, and the collecting fashions and trends of the time. Sparked initially by a variety of motives, those collectors—except for the occasional fanatic—tend to specialize in a specific area of interest and to develop collections that are, for the most part, small and relatively easy to manage. They collect, almost invariably for their own amusement and enjoyment and not because they see the material as representing either an investment or a contribution to library history. Collecting librariana, like most collecting, is done for fun!
It is discouraging to note that there is little evidence, with only a few exceptions, that individual collectors, or their descendants, have recognized the value of maintaining such collections intact. …. Undoubtedly many such collections, and knowledge of the collections and the collectors, have been dispersed and lost. More attention needs to be paid by present day collectors to the eventual disposition of their collections so that those collections will not also be dispersed and lost but will be maintained intact for later collectors to acquire, or to be preserved in an institutional setting." From A Guide to Collecting Librariana, pp. 121-122
We are all fortunate that Stevens followed through on his own advice to collectors of librariana.
This site created and maintained by Larry T. Nix
Send comments or questions to nix@libraryhistorybuff.org
Last updated: 12-30-08 © 2005-2008 Larry T. Nix
Also check out the Library History Buff Blog.