Charles R. McCarthy (1873-1921)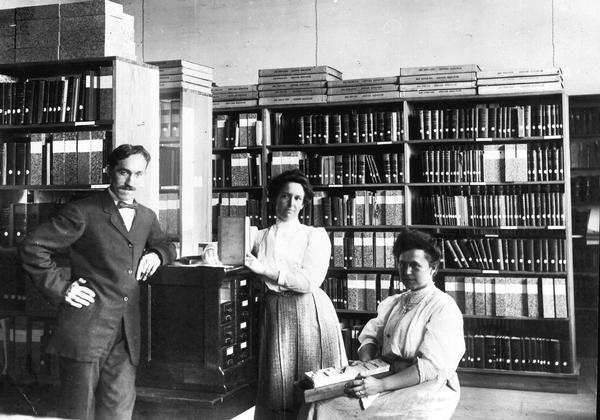 Charles McCarthy and the staff of the Wisconsin Legislative Reference Library, August 8, 1906. Photograph courtesy of the Wisconsin Historical Society.
Charles McCarthy, was the first librarian of the Wisconsin Legislative Reference Library which was established in 1901 as part of the Wisconsin Free Library Commission under the leadership of Frank Avery Hutchins. McCarthy was a leader in the Progressive Movement and was the author of The Wisconsin Idea. The Wisconsin Legislative Reference Library served as a prototype for such libraries in other states and also was the model for the Congressional Research Service of the Library of Congress. McCarthy was a confident of Theodore Roosevelt. He is listed in the Dictionary of American Library Biography and the Dictionary of Wisconsin History .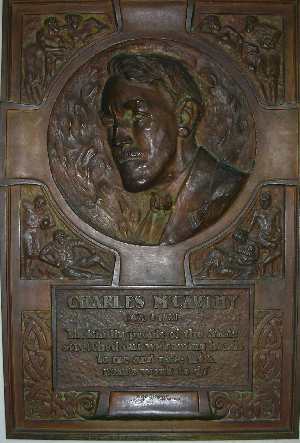 McCarthy is honored in the Wisconsin Capitol with a plaque that is located in the chambers of the Assembly. The plaque contains the McCarthy quote: "The kindly people of the State stretched out welcoming hands to me and gave me a man's work to do."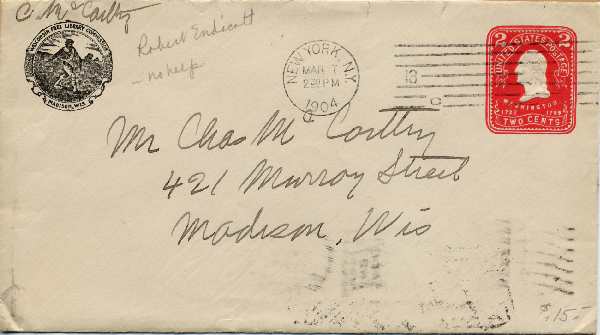 This cover is a pre-stamped postal stationary envelope and contains the logo of the Wisconsin Free Library Commission. It was mailed by McCarthy on March 7, 1904 from New York to himself at what appears to be his home address in Madison. McCarthy was evidently in the habit of taking these pre-stamped envelopes along on trips and sending communications back to Madison. Whether this was a personal or business communication is unknown.
A history of the Wisconsin Legislative Reference Library can be found in the PDF format at: http://www.legis.wisconsin.gov/lrb/pubs/special/Century_of_Service.PDF.