The Library History Buff
Promoting the appreciation, enjoyment, and preservation of library history
---
Library Catalog Cards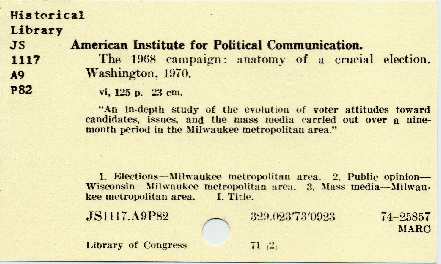 It's no secret that libraries have discarded card catalogs in great numbers and along with them millions of catalog cards. Many libraries have just dumped the cards, some have just used them for scratch cards for the public (such as the one above), but others have found more interesting uses for them.
The staff of University of South Carolina's Thomas Cooper Library have come up with a year-long series of events honoring the card catalog, its use in the transformation of knowledge, and the people who created and used it. An article about their efforts is located here.
The staff of the University of Iowa Libraries came up with a novel way of creating a memorial for their terminated card catalog. It is called cARTalog. Through this creative approach they distributed over 1 million catalog cards to people who came up with artistic ways of using them.
See a quilt featuring images of catalog cards from the Feed Dog Blog.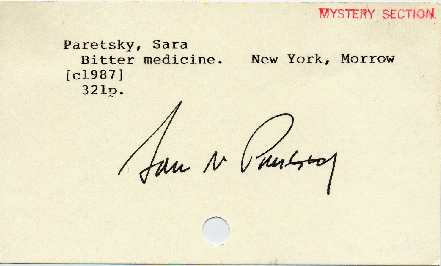 The Friends of the Library for the Royal Oak (MI) Public Library sent discarded catalog cards to the the authors of books represented by the catalog cards and asked them to sign and return the cards. They were then auctioned on eBay. This card is signed by Sara Parentsky.
See Sue Lawton's artwork on the back of catalog cards.
Catalog Cards as Christmas Cards Courtesy of Tera of Beatsville
http://www.abuelitaschango.com/2008/12/accomplishment.html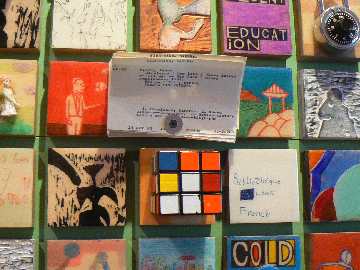 The Princeton (NJ) Public Library has a wall on which hundreds of tiles created by the public are arranged to create a highly unusual artwork. Among the items is a group of catalog cards fastened to a tile.
Heidi Holerman's Museum of Cataloging and Acquisitions Artifacts contains examples of catalog cards and information on how they were created.
http://www.heidihoerman.com/museumca/index.html
For information on card catalog cabinets click here.
For a history of catalog cards and the card catalog click here.

A 2 x 5 inch Harvard size catalog card. Click here and here for more information about these cards.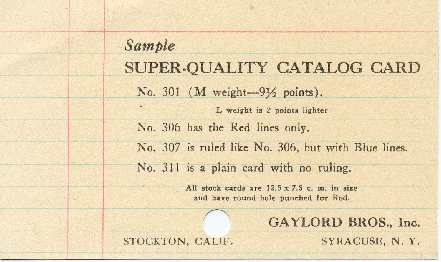 A sample catalog card included in a Gaylord Brothers supply catalog.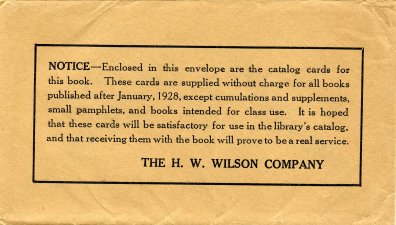 This envelope contained a packet of 9 identical catalog cards for a book purchased from the H. W. Wilson Company. One of the cards is shown below.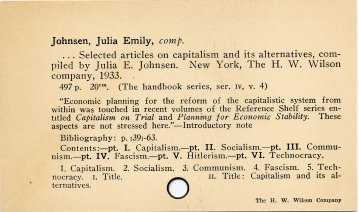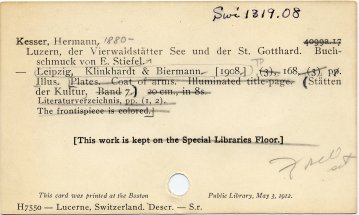 A catalog card printed by the Boston Public Library on May 3, 1922. This is a discarded card from the Harvard College Library.
This site created and maintained by Larry T. Nix
Send comments or questions to nix@libraryhistorybuff.org
Last updated: 01-01-10 © 2005-2010 Larry T. Nix
Also check out the Library History Buff Blog.