The Library History Buff
Promoting the appreciation, enjoyment, and preservation of library history
---
Library Service to the Blind using the Mail
This year (2009) is the 200th anniversary of the birth of Louis Braille, the creator of the Braille alphabet for the blind. A number of countries are issuing postage stamps to commemorate this occasion. The United States mint is issuing a silver dollar on March 26 to commemorate the bicentennial of Braille's birth. As a collector of postal librariana, I thought this would be a suitable occasion to share some of my postal artifacts related to library service to the blind.
In 1868 the Boston Public Library became the first American library to provide books in Braille to the blind. In 1897 the Library of Congress opened a reading room for the blind.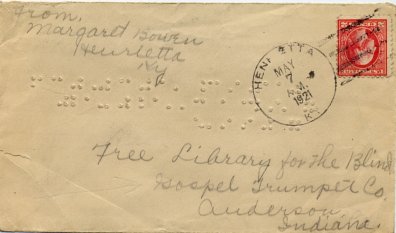 An envelope containing Braille lettering which was mailed to the Free Library for the Blind of the Gospel Trumpet Company in Anderson, Indiana on May 7, 1921.
This first day cover and stamp were issued by Canada in 2008 to commemorate the 100th anniversary of the Montreal Association for the Blind.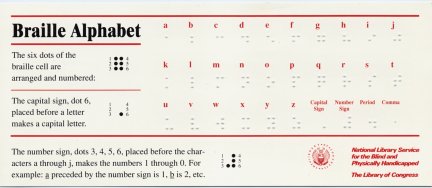 A promotional item for the National Library Service for the Blind and Physically Handicapped of the Library of Congress .

The "That All May Read" slogan of the National Library Service is displayed on this meter postage stamp.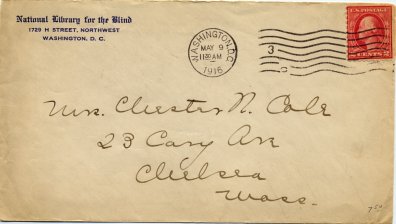 In 1912 Congress established the National Library for the Blind. This envelope was mailed on May 9, 1916.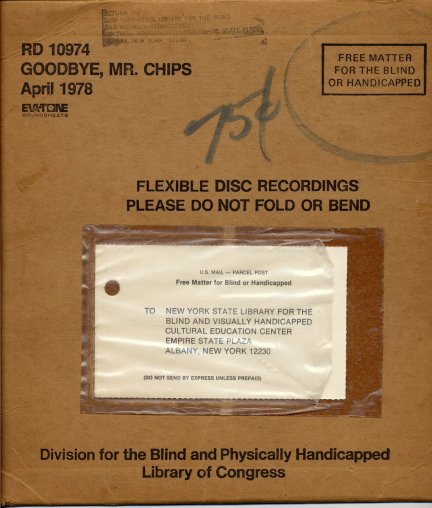 The National Library Service works through Regional Libraries located in states throughout the nation to distribute talking books and Braille books to the blind and physically handicapped. This package containing a talking book was mailed by the New York State Library for the Blind and Visually Handicapped. The label can be reversed by the recipient to mail the book back to the library. Mail matter sent to and from the blind is eligible for the "Free Matter for the Blind or Handicapped" rate. More on the background of this special postal rate can be found here.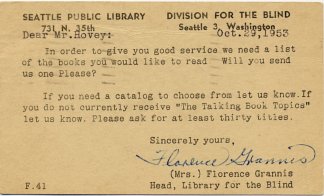 This 1953 postal card was mailed from the Division for the Blind of the Seattle Public Library which serves as the Regional Library for Washington State.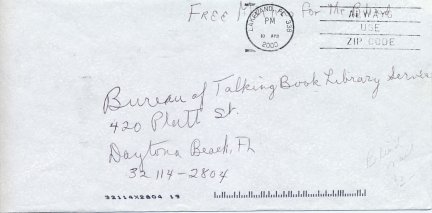 An envelope using the "Free Matter for the Blind" postal rate mailed to the Florida Bureau for Talking Book Library Service in Daytona Beach in April, 2000.
This site created and maintained by Larry T. Nix
Send comments or questions to nix@libraryhistorybuff.org
Last updated: 03-26-09 © 2005-2009 Larry T. Nix
Also check out the Library History Buff Blog.