The Library History Buff
Promoting the appreciation, enjoyment, and preservation of library history
---
Burning of the Library of the University of Algiers
On June 7, 1962, the Organisation de l'armée secrète (better known as the OAS), a militant underground organization opposed to Algerian independence, burned down the library of the University of Algiers destroying 112,500 books. This was one of the culminating acts of the 1954-1962 Algerian War which included many atrocities on both sides. On July 1, 1962 Algerians in overwhelming numbers voted in favor of independence from France. The burning of the library was seen as a symbol of the rightness of Algerian independence and resulted in a number of Muslim countries issuing postage stamps commemorating the tragic event. I first learned of these postage stamps from a reprint of a 1982 American Libraries article entitled "Biblio-philately" by George M. Eberhart in the first edition of the Whole Library Handbook. The stamps were among the first additions to my collection of postal librariana.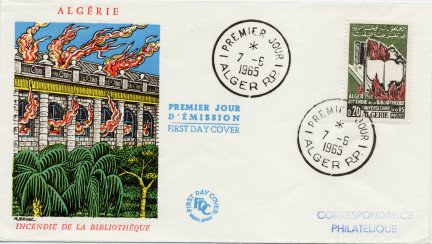 The first day cover shown here depicts the June 7, 1965 Algeria stamp commemorating the burning of the library. It has a Scott Catalogue number of B98. It is a semi-postal stamp with the surtax going to the National Solidarity Fund of Algeria. June 7 is celebrated as the official anniversary of Algerian independence.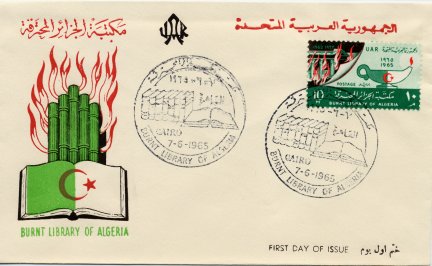 This first day cover was by Egypt on June 7, 1965. A pictorial postmark is used to cancel the stamp which has the Scott Catalogue number 668. The same stamp design was used by other Muslim countries.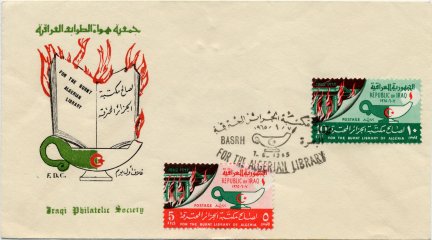 This first day cover was created by the Iraqi Philatelic Society and features the two stamps issued by Iraq. They have Scott Catalogue numbers 380-381.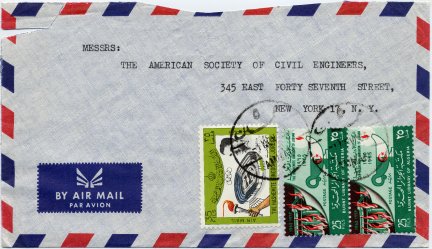 Jordan also issued a stamp which was used to help mail this commercial cover. The stamp is Scott Catalogue number 517.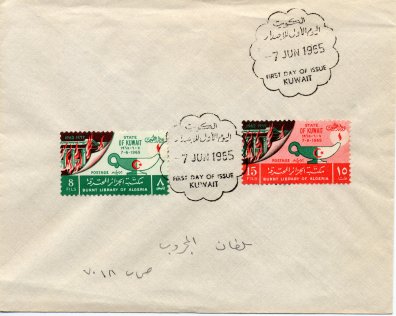 A very simple first day cover showing the two stamps issued by Kuwait, Scott Catalogue numbers 289 and 290.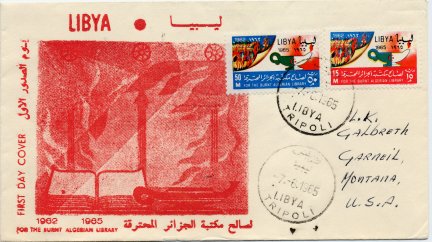 This first day cover from Libya was actually sent through the regular mails. The stamps are Scott Catalogue numbers 282 and 283.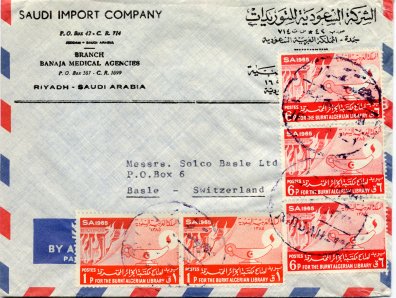 This commercial cover from Saudi Arabia includes two of the six stamps of different denominations issued to commemorate the burning of the library by that country. The Scott Catalogue numbers are 363-368.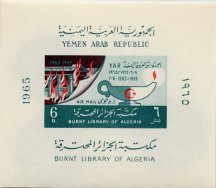 Yemen issued two stamps, one for regular mail and one for air mail. The regular mail stamp is Scott Catalogue number 214 and the air mail stamp is Scott Catalogue number C33. This small souvenir sheet shows the airmail stamp.
This site created and maintained by Larry T. Nix
Send comments or questions to nix@libraryhistorybuff.org
Last updated: 10-05-09 © 2005-2008 Larry T. Nix
Also check out the Library History Buff Blog.